Local Summer Fun on a Budget | St. Johns Bank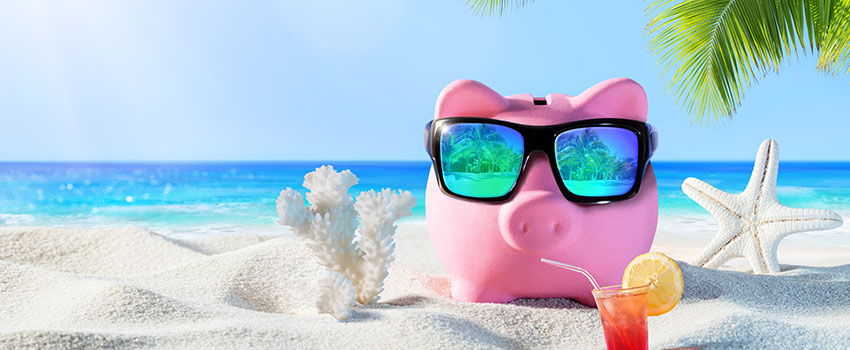 Summer is here! That means the sun is shining, the kids are out of school and seasonal fun is everywhere.
And it also means there are many opportunities to go over your entertainment budget. Fortunately, there are many ways to stay on top of your finances, spend less on entertainment and enjoy your time this summer without breaking the bank.
Visit a Library
On a hot, humid day, consider visiting the St. Louis Public Library! There are so many fun events to choose from, and just browsing the books serves as a fun way to spend the day, too.
This is a great option when you want to get out of the house but the temperature may be just a little too high for your liking that day.
Beat the Heat at a Splash Pad
Little ones would love spending the day at a local splash pad! Luckily, St. Louis is chock-full of fun places to splish, splash and cool down in the heat. Don't forget to apply sunscreen regularly!
Break Out the Chalk
Sometimes, the simplest activities are the most fun. Don't overlook the fun that can be had with some chalk, a few sidewalk stencils and a container of bubble solution.
Little kids love creating art on the pavement—and to avoid getting stuck blowing bubbles all afternoon, consider investing in an inexpensive bubble machine. Your kids and the neighborhood children will thank you!
Visit Local Farmers Markets
What's better than spending a warm morning perusing local produce, handmade goods and supporting local farmers? Doing it with your family!
While farmers markets are full of opportunities to spend money, they are also great for walking around and browsing items. You can bring your kids along to teach them about farm to table practices and get ideas for homemade goods you'd like to make.
Plant an Indoor Herb Garden
It may be too late in the season to grow a garden from seeds outdoors, but it's never too late to start seedlings indoors. An indoor herb garden that lives on a bright windowsill is a great project for kids or a hobby for adults.
Herbs are smaller in nature compared to large flowers and can be easily maintained in containers or in a hydroponic environment. For fun, have each of your kids plant an herb and take care of it throughout the summer months. This doubles as fun teachable moments about root systems, photosynthesis and more!
Are you ready to have the best summer yet? Don't let your finances hold you back. Visit us today to get the bank accounts and financial services you need!